If you follow the 2016 Presidential campaign trail closely, you have most certainly seen video from recent Trump campaign rallies. If you do, you will notice an ever-increasing number of African-Americans in the background. They, and occasionally some white Trump supporters, regularly holding up signs emblazoned with the words "Blacks for Trump." If that were all they said, then the anomalous ideological content of the sign-holders would likely be forever a matter of speculation.
Luckily, for students of conspiracism and anomalistic beliefs, that was not the case.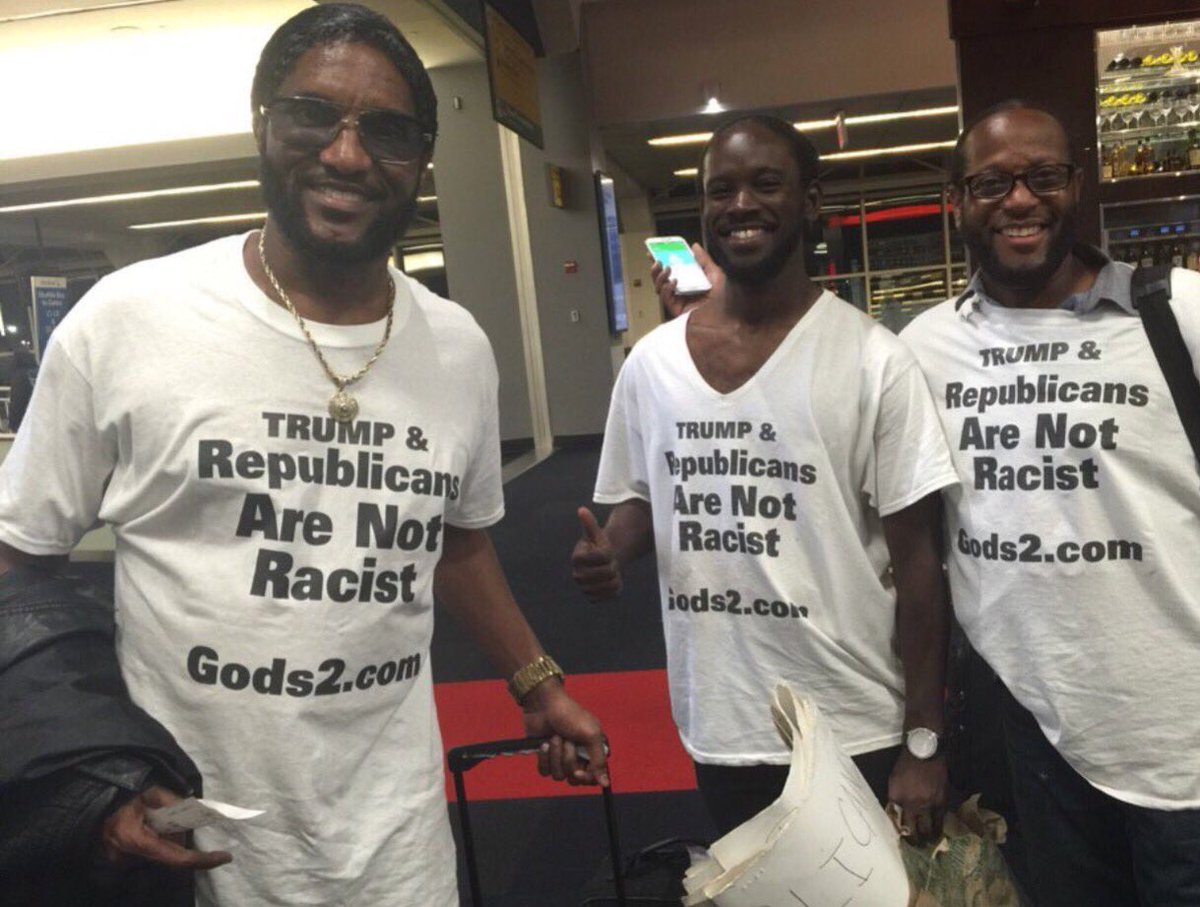 Meet Michael Symonette, AKA Maurice Woodside, AKA Michael the Black Man. Symonette is the man organizing the "Blacks for Trump" group at various Trump rallies in Florida and in recent Presidential debates. Symonette is also a former alumnus of the Yahweh Ben Yahweh cult.
After the prosecution of Yahweh Ben Yahweh's charismatic preacher, Hulon Mitchell Jr, along with several other YBY members for conspiracy to commit murder and implicated in brutal case of mutilations and ritual beheadings (Michael was tried and acquitted), Symonette worked as a musician before starting an independent far right radio station in Miami espousing anti-gay, anti-muslim rhetoric. The radical politics, however, were part and parcel of the Yahweh Ben Yahweh tradition.
So what does the main African-American Trump supporter believe?
"One reason is because Hillary's last name is Rodham, and their family members are Rothchilds, who enslaved 13,000 slaves as collateral … She's also on camera kissing the head of the Ku Klux Klan and saying, 'That's my mentor.' That's all on my website."
That website's url, Gods2.com, is on most of the signs Symonette and friends bring to Trump rallies. But a visit to the website reveals a confusing mess of false hyperlinks, 48 pt. font doomsayer proclamations, and a confusing barrage of Bible verse citations and proclamations of the greatness that is Donald Trump and the sullen harlotry that is Hillary Clinton.
By Falsely accusing Trump of being a War Monger that's why Hillary keeps saying on Liberal Media with Fox repeating naively that Trump might push the Nuclear button & she says she won't put boots on the ground in Middle East which is the vally of Jehosaphat

The fact is she knows that she will cause Armageddon deliberately just being President because God has said she will not be saved, so because she's doomed she wants everybody to be Killed to Rev.2:20-23.

Trump's Female problems are phony because Deut.19:15-18, Exo.22:10 & the Constitution art.3 sec.3#1. Says u must have 2 eye witnesses to prove Guilt.  gods2.com
That's right, he signs his writings on his website with his web url.
Symonette has been a major GOP supporter before Trump, at times supporting Rick Santorum and being lauded by Glenn Beck as proof of the existence of burgeoning Black Conservatism.
Of course, Symonette, is not the only "Black for Trump." Regularly joining him at Trump rallies are Eddie Jules and Anthony Williams. Jules ran for Miami-Dade County sheriff despite no experience and Kaufman is a self-proclaimed sovereign citizen and Hebrew-Israelite.
Together, this trio, often good for a laugh in the Miami-Dade area are taking their show, and a few of their friends onto the Trump Train. If the regularity with which these three are brought to the front to be placed behind Donald Trump is any indication, they have truly found their true home.
Postscript:
If you can't get enough of your new favorite crazy Michael/Maurice has a YouTube page under his real (?) name, Maurice Woodside, and it is all the scatological raving mess that his website is. A beautiful chaos, a perfect alternative to waterboarding.
Enter this rabbit-hole at your own risk.
Update: Maurice Symonette has yet another alias. He currently is also known as Maurice Warns and was a darling of pro-Trump fringe websites when he organized a makeshift Trump rally outside of the DNC office in Hollywood Florida.
Essentially, other than the 19-year-old man from Indiana who pollsters apparently weighted between 30 to 300 times in recent polling, there are few African-Americans supporting Trump, and most of them are really Maurice Symonette.
Another addition to the Michael/Maurice Symonette story is that he continued to follow Trump into Washington D.C. and was seen behind Ted Cruz during a hastened press encounter after Jeff Sessions confirmation hearing ended. Symonette was behind Cruz holding a white hat with the presidential seal with the words "Blacks for Trump" written in magic marker on the bill.
He and about a dozen of his friends (or followers?) were highly visible during Donald Trump's February 18th, 2017 rally in Melbourne Florida holding signs that said "Trump 2020." It begins to dawn on me that Symonette and Trump have a similar fondness for being seen.
For more on Michael/Maurice, check this piece on The Ave.